Amphawa is a small town in Thailand's Samut Songkhram province. It is located on the banks of the Mae Klong River, about an hour's drive from Bangkok. Amphawa is a popular tourist destination for its floating markets, canals, and traditional Thai architecture.
In recent years, Amphawa has become a popular destination for digital nomads and remote workers. This is because Amphawa offers a unique combination of work-life balance. Digital nomads can find affordable greenery or riverside cafes where they can work while also enjoying the relaxed atmosphere and vibrant culture of Amphawa.
Amphawa: A great workplace near Bangkok for Digital Nomads and Workationers
There are so many reasons why Amphawa would be an excellent choice for those who come to enjoy their vacation and stay while running their work in this beautiful town of Thailand. Some of those reasons include:
Affordable Cafes for Work: Several riverfront cafes in Amphawa cater to digital nomads. These spaces offer fast internet (in some places), comfortable workspaces, and various beverages and foods to fuel your energy. The cost of living in Amphawa is also relatively low, which can help digital nomads save money.
Relaxed atmosphere and vibrant culture: Amphawa is a very relaxed town with a slow-paced lifestyle. This can be a significant change of pace for digital nomads who are used to the hustle and bustle of city life. Amphawa is also home to a vibrant culture, with many temples, markets, and festivals to explore. It has a variety of characteristics which you can choose to experience – peaceful and nature embraces on weekdays versus fun and festive vibes on weekends and holidays.
Easy access to Bangkok: Amphawa is only an hour's drive from Bangkok, making it easy for digital nomads to connect with other digital nomads and remote workers. Bangkok also offers a variety of amenities and services that digital nomads may need, such as international airports, hospitals, and gyms.
Official language: The official language of Amphawa is Thai, but English is widely spoken.
Various Transportation Choices: You can get to Amphawa by bus, train, or car. The bus is the cheapest option, but it can be crowded. The train is more comfortable, but it takes longer. The car might be the most expensive option, but it is the fastest. Several car rental places in Amphawa provide you with the convenience of transportation. You can also plan and enjoy the boat and car tour services with advance booking to avoid long queues and over-pricing during the weekends and holidays.
All Year-Round Visit: The best time to visit Amphawa is during the cooler season, from November to January. The average temperature in Amphawa is 27 degrees Celsius. But actually, this place welcomes visitors every season, and you will find that it offers different things each time you visit!
Guide to Amphawa and its unique experiences
When you visit Amphawa, make sure you spare time to finish your work and enjoy its exquisite experience. You can enjoy several activities in Amphawa, and each of them will never fail to impress you.
Visit the floating markets: Amphawa is famous for its floating markets, which open every weekend from morning to evening. The markets are a great place to buy souvenirs, food, and fresh produce. Also, for those who visit during weekdays, there is the Damnoen Saduak floating market, which opens daily.
Amphawa is also known for its canals: You can take a boat ride along the canals and explore the town's many temples and shrines.
Enjoy Thai street foods by the riverside: Thai street foods are famous alone, but in Amphawa, you can enjoy them along the riverside! Since there are so many rivers and floating markets in Amphawa and nearby, you can experience authentic Thai street foods while riding a vintage Thai boat.
Explore the traditional Thai architecture: Amphawa has many traditional Thai buildings, such as temples, houses, and shops. These buildings offer a glimpse into the town's rich history and culture.
Learn about Thai culture: There are many opportunities to learn about Thai culture in Amphawa. You can take cooking classes or visit cultural centers.
Enjoy the nightlife:
Amphawa also has a vibrant nightlife scene. There are many bars and restaurants where you can enjoy drinks and food with friends. Even though most are open on the weekends, on weekdays for those who want a little late-night hangout, some hidden bars are available past 10 PM.
Enrich in nature:
Amphawa is one of the most diverse areas of Thailand in terms of ecosystem. You can explore the green forest along the beautiful riverside and ride on the back of elephants. Still, you can also visit Khlong Kone Mangrove Forest and study their plentiful ecosystem. Also, check out the fireflies' tour at night for an excellent experience you will never forget! Moreover, you can enjoy some adventurous activities such as kayaking and SUP boarding along the river trails or biking and mud-skiing in the sight of nature.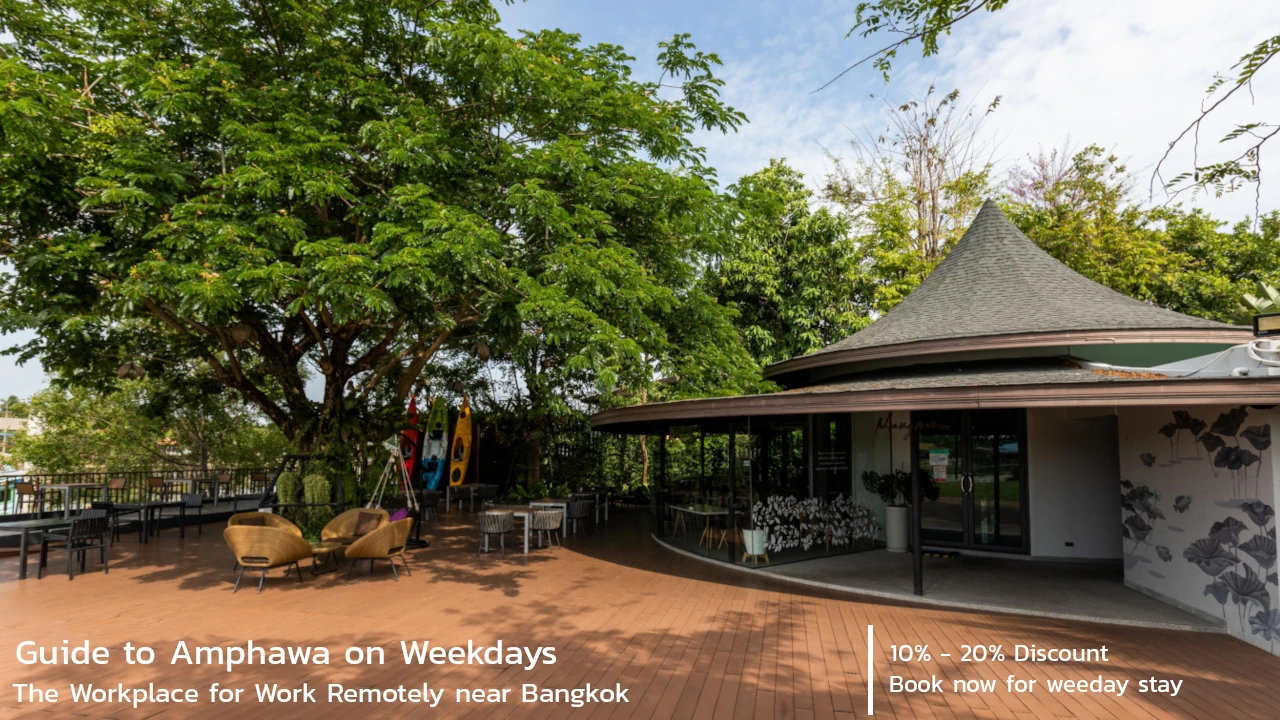 Mangrove, the riverfront working space cafe in Amphawa
Mangrove offers your work-life balance space. Surrounded by the boundaries of nature and riverfront view while you work remotely, Na Tree Tara Riverfront Resort provides a 10% discount for food and drink if you decide to book a room for a weekday stay.
Our outdoor space is furnished with 10 tables and is able to seat up to 40 people. The new riverside area is furnished with 5 sets of sofa lounges so you can enjoy your drink at sunset. Families can enjoy their meals with ease as we have erected a play area for children adjacent to the outside dining area.
The indoor air-conditioned area can seat 40 people, with 9 tables that are fitted with charging ports, meaning you can charge your devices. You are not hindered from working should you choose to do so.
Our all-day dining restaurant opens every day at 11 AM – 9 PM. Happy hour is every day from 5-7 PM for a selection of alcohol and non-alcoholic drinks. Privacy at our restaurant is enjoyed on the weekdays, making it the best place to dine and work. We offer a special 10% food discount for guests who book their stay with us during the weekday, Sunday – Thursday, valid until 28 December 2023.
If you are looking for a great place to work remotely, Amphawa is a great option. The area has plenty of things to do, and the weather is perfect for working outdoors. So, what are you waiting for? Start planning your workation in Amphawa today!
Book your weekday stay today and start your workation in style!
034-751-335 | 
|