Amphawa is a small town in Thailand that is located on the Mae Klong River. It is a popular destination for tourists, families, nature lovers, people interested in activities and riverside lifestyles and those who want to try a variety of Thai dishes, and it is also a great place to work remotely. The town is known for its beautiful canals, floating markets, and temples. Most importantly, it is only a little away from Bangkok, about 90 minutes, so it is a place where both Thais and foreigners come to travel every season.
Summer (March to May) – Songkran festival season
The weather in Amphawa is hot and humid with an average temperature of around 35 degree celsius during the summer. It is always a sunny place, with the peak of tourists during April, which is a famous Songkran Festival month. This makes it a great time to visit if you are looking for a fun and enjoyable experience. Some of the best things to do in Amphawa during the summer include:
Visiting the Amphawa Floating Market:
This is the most popular tourist attraction in Amphawa. Amphawa is another Thai Street Food Heaven which has its own unique attractive characteristic – Its riverside setting! You can enjoy the stalls of local food vendors both at the marketplace or floating along in the vintage rowboat and enjoy Thai food along the riverside. The experience will be remarkable and there is nowhere else can offer the same. The market is open every weekend. It is a great place to find fresh produce, souvenirs, and Thai street food.
Exploring the Amphawa Canals by boat:
This is a great way to see the town and its surroundings. You can book a private boat tour with your own personal gondolier! You can choose from one of the many vendors in the area, and you can explore the canals at your own pace. Sailing at Amphawa In addition to seeing the Thai-style riverside lifestyle, you will also see fruit orchards such as coconuts, pomelos, and lychees. At night, a boat will take you to watch fireflies dance, one of the most famous attractions here in Amphawa.
Enjoying the trip to Maeklong Railway Market:
The market is located in Maeklong District in Samut Songkhram Province; Maeklong Railway Market, also known as Talad Rom Hub is one of the unseen Thailand destinations; this market is located at the end of Mae Klong Railway Station. You can go to standby and wait to watch every day according to train arrival times: 08.30, 11.10, 14.30 hrs. / Train Departure: 06.20, 09.00, 11.30, 15.30 hrs. The highlight is that the train will run in and out through the product stalls. You will see adapting techniques for living with trains. This market has a long history and its origin is an extension of the Mae Klong market for merchants who do not have space in the market. Therefore, they have to adapt to use the railway as a selling point.
Visiting the Damnoen Saduak Floating Market:
This floating market is located about a 30-minute drive from Amphawa Floating Market, and it is one of the oldest floating markets in Thailand which is open every day from 8 am. – 3 pm. As you stroll down those alleys in Damnoen Saduak Floating Market, it will be just like walking along the historic cultural stream of Thailand.
Rainy Season (June to October)
The weather in Amphawa is wet and rainy during the rainy season. The temperature is about 30 degrees and there is occasional rain. It's a time when nature is lush and rich, and it's worth visiting. There are also plenty of things to do in the season. Some of the best things to do in Amphawa during the rainy season include: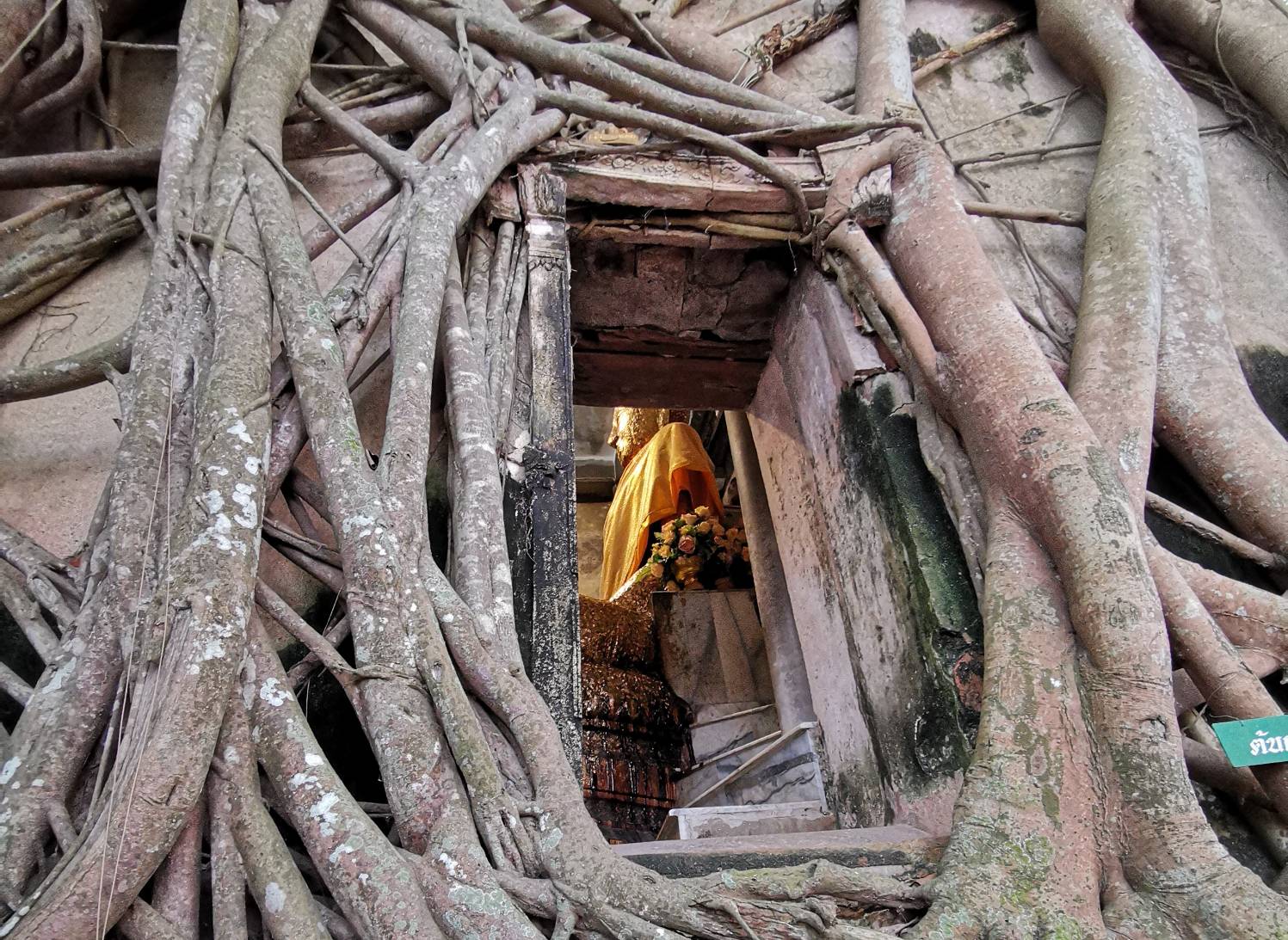 Visiting Wat Bang Kung Temple, Wat Pak Nam and Wat Bang Phrom:
Three of the most prestigious and famous temples in Samut Songkhram province. The temples feature the long history of Buddhism in Thai culture with the great Giant Bodhi tree, over 200-year-old pagoda and beautiful Murals.
Paying respect to the Nativity of Our Lady Cathedral:
The cathedral is located in Bang Nok Kwak District near Samut Songkhram Province. The Nativity of Our Lady Cathedral is believed to be one of the 1st cathedrals in Thailand and was built during the reign of King Rama V. However, this church can only be viewed outside normally, but if you want to visit the interior, which is decorated very beautifully, you must contact to book in advance or come on Sunday and dress politely only.
Visiting King Rama II Museum:
It is a museum in Amphawa district, Samut Songkhram province. The museum is dedicated to the life and legacy of King Rama II, the past king of Thailand who was originally born in Samut Songkhram. A fun highlight of King Rama 2 Park is that they have original Thai costumes to wear. Tourists like to come and wear Thai costumes and take pictures with the Thai house. There are also bicycles available for cycling around the park. This place is next to Amphawa Floating Market.
Enjoying the local cuisine:
There are a number of great restaurants in Amphawa that serve delicious Thai food. This is a great time to try some of the local specialties, such as menus featuring mackerel and pomelo salad, two well-known local ingredients of excellent quality, as well as fresh seafood and large river prawns. Samut Songkhram Province is known as the city of 3 waters because it is next to the mouth of the bay. The water comprises of fresh water, salt water, and brackish water, making the local food ingredients that you can enjoy in your meal at Mangrove Riverside Restaurant. Do not forget to indulge in the fresh fish from the river, Mae Klong River, caught by the local fishermen every day.
"Cooler" Season (November to February)
The weather in Amphawa is cool and dry with the average temperature round 25 degrees, and around 20 degrees if you are in luck. During the winter, the days are long (1 hour longer than Summer). This is the best time to visit Amphawa for workation. People by the river here have a relaxing and chill habit, hence, in this area, there are many cafes and restaurants by the river where you can sit all day long. Some of the best things to do in Amphawa during the winter include:
Fruits Picking at several Orchards:
Orchards are one of the big things in Amphawa. With their abundance during the rainy season, they have plenty to offer. There are often activities such as kayaking and SUP boarding to see the garden and there are Farm Visit activities that take you to meet farmers in the area and taste fresh produce, which you must follow on the social media pages of these gardens. Enjoy the feast of fresh fruits with the hospitality from true Amphawa locals finest.
Chilling and Working in Style:
If you want to relax and enjoy its beautiful, harmonious atmosphere with the simple way of living in Amphawa, you can! There are several homestays and resorts along the river offering full-board and plenty of Thai hospitality for you to enjoy here.
Other Activities to Consider
In addition to the activities listed above, there are a number of other things to do in Amphawa that you might enjoy. These include:
There are a number of cooking schools in Amphawa that offer classes in Thai cuisine. This is a great way to learn about Thai food and try cooking some of your favourite dishes.
Damnoen Saduak Elephant Village:
If you love animals, especially wildlife, this site offers an exciting activity and a terrific experience among the wilderness covered with evergreen bushes and diverse flora in the dark forest, one that you will never forget. Enjoy your ride on the large, friendly forest beasts, one of Thailand's most pleasurable experiences.
There are many hotels in Amphawa to choose from, from budget-friendly homestays to luxurious riverside pool villas, so you can find a comfortable place to stay for your 2-night trip or as long as you would like to stay.
If you are planning a weekday stay, then it is worth visiting.
We recommend visiting on weekdays if you want to experience Amphawa in its most peaceful and serene atmosphere. On weekdays, the hotels in Amphawa offer special discounts, so you can save money and enjoy a more relaxing experience. Amphawa is a great place for families, couples, groups of friends, and anyone looking for a quiet place to work. It has a very peaceful and private atmosphere, with a natural Thai-style waterfront setting, which you can enjoy in any season.
Experience a Riverfront Vacation while Working Remotely
For those who are looking for a perfect place to stay for a great time in Amphawa, check out the Weekday Privillage at Na Tree Tara.
Na Tree Tara Riverside Villa is the perfect place to work remotely and enjoy the best of Thai culture. Located on the banks of the Mae Klong River, the resort offers stunning views, comfortable accommodations, and a variety of amenities to keep you productive and relaxed.
Na Tree Tara is the perfect place to set up your home office with its beautiful setting, spacious rooms, and private balconies. When you need a break, you can explore the nearby Amphawa Floating Market, visit the Amphawa Temples, or take a boat ride along the river.
Na Tree Tara offers up to 20% off for weekday stays when booked 14 days in advance and 10% off dinner at Mangrove, the riverfront cafe and restaurant.
Here are some of the benefits of staying at Na Tree Tara Riverside Villa:
Stunning views of the Mae Klong River
Comfortable accommodations with 8 types of room selections
Variety of amenities to keep you productive and relaxed.
Gym Facility.
Spa
Free WiFi
Spacious rooms
Private balconies
Weekday privilege with 10% food & beverage discount
If you are looking for a great place to work remotely, Amphawa is a great option. There are plenty of things to do in the area, and the weather is perfect for working outdoors. So, what are you waiting for? Start planning your workation in Amphawa today!
Book your stay today and start your workation in style!
034-751-335 | 
|