Did you know that Bangkok is one of the top destinations for digital nomads worldwide? But if you're tired of working remotely in Bangkok, why not try changing the scenery and working by the river in Amphawa, not far from Bangkok? In addition to experiencing the beautiful nature while you can socialize, and immerse yourself in the relaxed lifestyle of the Thai people by the riverside.
In the current digital era, freedom in work has increased significantly. It's not limited to just a location; you can work while traveling from anywhere in Thailand. The concept of Digital Nomads has emerged. However, being a Digital Nomad still requires careful planning and preparation, including having multiple contingency plans, to be as efficient as possible in your work.
Why Amphawa?
Amphawa is located in Samut Songkhram province, with the Mae Klong River flowing through the heart of the town before meeting the Gulf of Thailand. It's a meandering waterway that spans the region. There are plenty of rivers, gardens, and the sea, which make people close to nature, including interesting Thai Arts. However, Amphawa isn't just popular among tourists; it's also a favored destination for Digital Nomads who often travel here to work and relax.
Here are some compelling reasons why:
Year-Round Sunshine: It's well known that in many countries with cold winters, constant sunshine is a rare commodity.
Affordable Cost of Living: Typically a meal costs around USD 2.-, while accommodation can cost around USD 60.- per night.
Convenient Travel from Bangkok:

By Car: It's just a 1.5 to 2-hour drive from Bangkok.
By Minibus: A one-way ticket costs around 70 baht, and you can catch a minibus at Mo Chit Bus Station and the Southern Bus Terminal.
By Train: Train travel offers a unique experience with scenic views, and you can even visit the "Mae Klong Railway Market" on the way. Mae Klong Station is the closest to Amphawa. Just be sure to check the train schedule.

A Great Option for Workation: If you're a digital nomad craving a piece of paradise, look no further. We offer a blend of tranquility and a private workspace amidst nature.
Riverside Accommodation: Enjoy a comfortable stay at the Amphawa Riverside Hotels, which offers comprehensive amenities by the riverside.
If you're still having trouble pitching it, let's compare two destinations that are both popular among digital nomads: Bangkok and Koh Phangan. Although both are sought after by digital nomads from around the world, there are significant differences between working in these three cities. Let's take a closer look.
Work remotely in Bangkok:
If you're a digital nomad, working in the capital city of Bangkok is like paradise on Earth. It's an ideal place to combine work, travel, and lifestyle because:
Easy Accessibility: Bangkok is easily accessible, and you can enjoy a comfortable lifestyle. Digital nomads can enter with a travel visa that can be extended every three months.
Socializing Opportunities: Bangkok is filled with professionals and entrepreneurs, making it easy to network and build connections for your work.
Abundant Co-working Spaces: The city offers a wide range of co-working spaces with air-conditioning, power outlets, and high-speed internet for a comfortable working environment.
Off-Season Accommodation Prices: One crucial factor for digital nomads is the cost of accommodation. In the off-season, you can find places to stay for as low as 1,300 baht per night (USD 40.-).
Work remotely on Koh Phangan:
Koh Phangan may not be the capital city like Bangkok, but it is an equally enticing destination for digital nomads for several reasons:
Tranquil Environment: The island boasts natural beauty, serene beaches, and forests. Digital nomads are drawn to work in a peaceful natural setting, which is conducive to well-being and relaxation.
Reliable Internet: A reliable internet connection is essential for digital nomads, and Koh Phangan offers both Internet and Wi-Fi with decent speeds. Cafes on the island also provide good and secure Wi-Fi connections.
Abundance of Co-working Spaces: In addition to stable internet access, Koh Phangan offers convenient co-working spaces for productive work.
Cost of Living: Despite being a tourist destination, the cost of living in Koh Phangan is reasonable. You can find accommodation for as low as 2,000 baht per night (USD 60.-) during the low season.
Work remotely in Amphawa
There are so many reasons why Amphawa is a hidden gem for digital nomads:
Cost of Living: It is possible to live off less than USD 500.- per month. Most digital nomads in Amphawa will rent an apartment or book a hotel and hostel – It is cheaper in the long run. Hotels vary in price a lot. You can find a youth hostel for USD 12.- per night, but you could stay in luxury accommodation for USD 100.- per night.
Surrounded by nature: Amphawa is an excellent mixture of river, park, and sea. It's a beautiful and tranquil spot to live as a digital nomad.
Cafe with Wi-Fi: Cafes offer a social atmosphere where you can set up a mobile work office in exchange for purchasing a set of drinks or a meal to secure your seat.
Best Workplace Cafe: Workplace Cafes often offer a social atmosphere where you can set up a mobile office while enjoying drinks or meals to secure your seat.
New Ideas through Tourist Attractions in Amphawa
Have you ever experienced those times when you feel stuck with no new ideas or, worse, you hit a creative block at work? It can be a sign that you need to step outside and find some fresh inspiration. Fortunately, in Amphawa, there are numerous wonderful tourist spots to explore before checking in at the Amphawa Riverside Hotel. These include:
Damnoen Saduak Floating Market:
This popular floating market is only a 20 km journey from Amphawa. It's a cultural attraction loved by travelers from all around the world. Visitors can immerse themselves in the local way of life, explore traditional cultures, and shop for delicious food and souvenirs. You can take a stroll, enjoy tasty treats, or even take a boat ride. It's open daily.
Mae Klong Railway Market:
Mae Klong Railway Market is a bustling market that attracts a large number of tourists who want an exhilarating market experience. Trains pass right through the market, and it's an experience you won't find anywhere else.
Wat Bang Kung:
Wat Bang Kung in Amphawa is a unique temple surrounded by large banyan tree roots. Inside, there is a beautiful golden Buddha statue, creating a serene and captivating atmosphere for visitors. This temple has a long history and was an important site during the battle between the Burmese army and Siam.
Wat Phummarin Kudi Thong:
Another must-visit temple, Wat Phummarin Kudi Thong is known for its golden teakwood ordination hall. It's a stunning piece of architecture and craftsmanship, built by King Rama I in the first reign. Additionally, there's a museum and educational area within the temple complex that showcases valuable historical artifacts and teaches Thai Music Courses.
Amphawa Chai Pattananurak Development Project:
This place has been established to provide the area for the invitation to anyone who gets the natural experience of coconut trees and the way Amphawa residents live with their career as coconut sugar makers. The place is an education center and local tourist attraction, which is the most famous of Amphawa.
Amphawa Floating Market:
If you want to experience exceptional shopping and dining, Amphawa is one of the best locations to visit. Moreover, you can capture a lot of beautiful photo opportunities while strolling around and have a boat tour to see fireflies and lifestyles along Amphawa Canal.
These attractions in Amphawa provide not only entertainment and relaxation but also a rich source of inspiration for those in need of fresh ideas.
Riverside Workplace Accommodation for Workation in Amphawa
In Amphawa, you'll find a variety of accommodations, but the top recommendation has to be Amphawa Riverside Resort, specifically Na Tree Tara Riverside Resort. It's an ideal place for both workation and relaxation, offering a comprehensive range of amenities. Cherchon Spa helps you unwind after work. Mangrove Riverside Restaurant serves exquisite Thai cuisine and excellent beverages. What's more, there's a fantastic offer of a 10% discount on food and drinks when you visit on regular weekdays.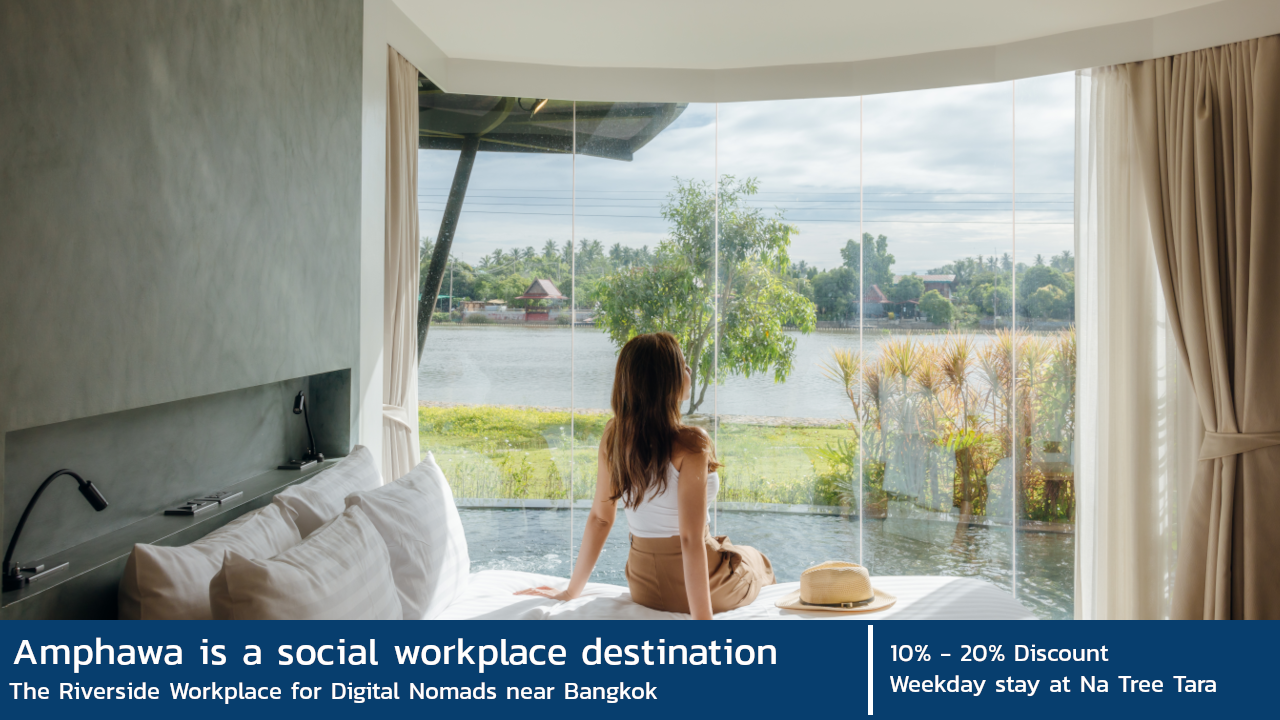 Moreover, Na Tree Tara Riverfront Resort has some appealing promotions that Digital Nomads will love. Just book your stay on a regular weekday at least 14 days in advance, and you'll receive a 20% discount. Prices start at just 2,400 Baht (USD 66.-) including breakfast. They offer a variety of room types, ensuring a comfortable and relaxing stay with beautiful riverfront views, and providing you with the energy you need to work effectively every day. Na Tree Tara Resort also offers an exclusive package, the "Amphawa Discovery Tour Package", including transportation to popular destinations together with a spa treatment and meals.
One Bedroom Suite Jacuzzi
For your accommodation, we recommend the One Bedroom Suite Jacuzzi, a 61m² room perfect for couples or friends traveling together. This special room features a large balcony where you can work outdoors and enjoy beautiful views. Additionally, it comes with a private Jacuzzi for relaxation after a day of work. The price for this room starts from 3,825 baht (USD 105.-).
Now that you know all this, don't forget to ignite your work with passion. With this, you'll become an efficient Digital Nomad who can seamlessly combine work and relaxation, ensuring a Work-Life Balance without a doubt.
Book your weekday stay today and start your workation in style!
034-751-335 | 
|